Iron ore
Iron ores are rocks and minerals from which metallic iron can be economically extracted. The iron itself is usually found in the form of magnetite, hematite, goethite, limonite or siderite. Due to the high density of hematite relative to associated silicate gangue, hematite beneficiation usually involves a combination of crushing, milling, gravity or heavy media separation, and silica froth flotation. More>>
Iron ore crusher
In the iron ore processing plant, the most commonly used crushers are jaw crusher, impact crusher, cone crusher and mobile crusher. Iron ore crusher is the major crushing equipment used in a stationary iron ore crushing and screening plant. As a professional iron ore crusher manufacturer and exporter, Kefid can produce the iron ore crusher from primary crushing to tertiary crushing. More>>/p>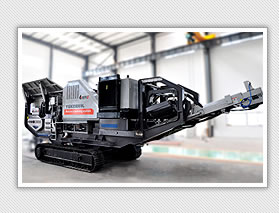 What are the characteristics of Iron Ore Crusher?
Iron Ore Crusher is one of the most high efficiency iron ore crusher. Comparing with other iron crusher, iron ore cone crusher with high-efficiency has excellences for iron ore crushing, high productions and low maintenance. Iron ore mobile crusher is developed according to novel series iron ore crushing equipment's design idea. If you need detail configuration for iron ore crushing solution, please contact us!
Contact us online!
Iron ore processing flow chart
Raw iron ore is exploded from the iron ore mines firstly. Then vibrating feeder will feed iron ores into the iron ore primary crusher crushing cavity, in which large size raw iron ore will be resized into iron ore sand. The iron ore sand is transmitted into secondary crushers by belt conveyors evenly and continuously.